Throughout the Colts' roster remake, the only guys on the team who knew their jobs were safe were kicker Adam Vinatieri and punter Pat McAfee. But while they are elite-level players, the rest of the special teams were awful. Last year the Colts allowed 30.7 yards per kick return and 11.5 on punt returns, while managing just 18.6 and an unbelievably paltry 3.4 on their own. If anyone out there still thinks the team's collapse was all about Peyton Manning's injury, those numbers should indicate otherwise.
So let's look at how special teams stack up:
Kicker: Adam Vinatieri
He's 39, but has two years left on his contract and is still close to automatic with most of his kicks. He went 23 of 27 on field goals (including two of three from 50 yards or more) last season as the Colts had a hard time getting into any kicker's range and was 24 of 24 on extra points as they had an even harder time scoring touchdowns. The Colts haven't signed any other kickers for camp yet, so it would appear they have faith that Vinatieri still has lots of leg left.
Punter: Pat McAfee, Brian Stahovich
McAfee's is one of the league's best punters in every aspect of his game. With apologies to Reggie Wayne and Dwight Freeney, McAfee may actually be the best player at his position on the Colts' roster. Stahovich was an outstanding college punter who will be showcasing his leg for other teams or the future at Colts' camp. It's very unlikely he would be able to unseat McAfee, but he could be a factor next season as McAfee will be a free agent.
Kickoff specialist: Pat McAfee, Brian Stahovich
Same deal here as punter: McAfee is one of the league's best and Stahovich is trying to make a case to stick somewhere.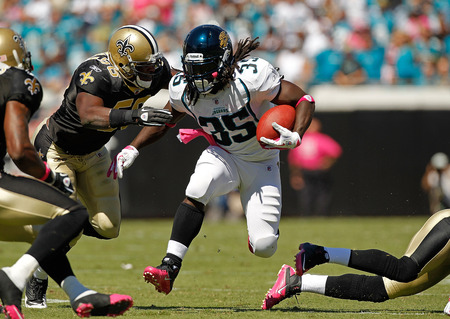 Kick returns: Joe Lefeged, Deji Karim, Quan Cosby Jeremy Ross, TY Hilton, LaVon Brazill, Jabin Sambrano, Buddy Jackson
Here's where things get messy. Lefeged is the incumbent and will be offered a shot out of courtesy. But after going 31-578-0 (18.65) last season, it's unlikely he'll win the job. Brazill has some kick return experience — 2-40-0 (20.00) career, both in 2011 — but is a slight quick-stepper, more of a punt-return type. That leaves the serious competition to others. The veteran options are Karim — 77-1,900-0 (24.67) in a two-year NFL career — and Cosby 33-740-0 (22.42) in three NFL seasons. First-year and rookie options include Ross — 42-851-0 (20.26) In three season at Cal — Hilton — 105-2,855-4 (27.19) in four seasons at Florida International — Sambrano — 49-1,136-0 (23.18) in four seasons at Montana — and Jackson — 23-543-1 (23.61) in one season at Pitt. Of course, the competition will go one all spring and summer. It's anyone's guess who'll win, but my money's on Karim, especially if he improves his ball security. Hilton may be a better prospect at the position, but he has durability issues and if the Colts are expecting him to contribute at and maybe even win the split end position, they would be unlikely to expose him to the brutality of special teams. Cosby, Ross and Sambrano also return punts, so the Colts could potentially save a roster spot by going with one of them.
Punt returns: Joe Lefeged, Quan Cosby, Jeremy Ross, TY Hilton, LaVon Brazill, Jabin Sambrano, Jarred Fayson
Again, Lefeged is the incumbent, but he was atrocious last season — 9-42-0 (4.67). Cosby is the only veteran option here, and a decent one — 97-968-0 (9.98) in three NFL seasons. But the Colts may turn to a young speedster like Ross — 31-471-1 (15.19) in two seasons at Cal — Brazill — 38-531-4 (13.97) in three seasons at Ohio — or Sambrano — 40-411-1 (10.28) in three seasons at Montana. Fayson — 10-50-0 (5.00) in two seasons at Illinois — has an outside chance at contributing here. Unless someone else really wows the coaches, I think it's Brazill's job to lose.
Long snapper: Justin Snow, Matt Overton, Kyle Miller
Snow is reliable, but he's also 35 and set to be a free agent. The Colts would love to see a younger, cheaper option beat him out. Overton is an NFL, IFL and AFL veteran who offers little but precise snaps, while Miller is a little more athletic, and is more likely to help on special teams and, if absolutely necessary, on offense.
One last thing: The Colts coverage teams were historically bad last year. But while the new regime has brought in lots of new players, few — aside from perhaps rookie UFDAs Cameron Chism, Matt Merletti and Latarrius Thomas — look like they do much on specials, and none is anywhere near a lock to make the team.