Unlike the offense, the Colts 2012 defense has a number of familiar faces, just in different spots. All evidence points to the Colts using a hybrid defense — a base 3-4 that morphs into a four- and even five-man front on passing downs. When that happens, the nose tackle comes out (probably for some oxygen or a quick nap), the base ends become tackles and the outside linebackers become traditional ends. Here's how ColtPlay sees that all shaking out: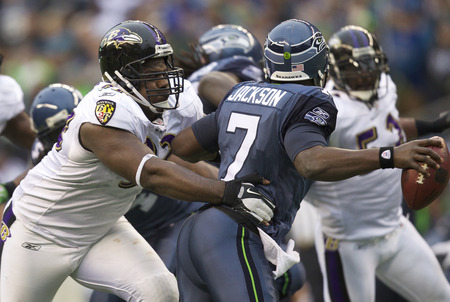 Defensive end:
Cory Redding, Drake Nevis, Fili Moala, Ricardo Mathews, Ollie Ogbu, James Aiono
This actually looks like a position of strength, at least at the top. Free-agent signee Redding is coming off an excellent season in the same scheme with the Ravens and should anchor the right side. Nevis, who played very well as a rookie before he was injured, should have no problem holding down the left side. After those two, though, it's iffy. Moala has done a whole lot of nothing since being drafted in the second round in 2009 (two sacks in 31 starts), but could blossom in the new system. Mathews played nose in the Colts' recent get together, but that was out of necessity since there were so few actual noses around. At 6'3, 294, he's really an end candidate. And not a terrible one; he's certainly outplayed Moala over the stretch. Ogbu's been around and could stick if there are injuries, while Aiono is strictly a development guy.
Nose tackle:
Antonio Johnson, Brandon McKinney, Josh Chapman, Chigbo Anunoby
This isn't a bad group either. Johnson is listed as the starter right now, but it's written in pencil. Faintly. He's only there because he was the only veteran who looked even remotely like a nose. Actually, he'd be better off at base end. Based on what I've seen from him, I'd put him behind Nevis and just ahead of Moala and Mathews. As for actual nose tackles, former Raven McKinney will probably start. He offers essentially no pass rush, but is an absolute bull against the run, and that should be good enough for this defense. A very similar player, Chapman should back him up as a rookie, and eventually challenge him for the starting job. He's even bigger and stronger than McKinney. Do you want tough? Chapman tore his ACL in college and kept playing. Anunoby, already a fan favorite on the internet, is monstrously big and strong, but incredibly raw. He will probably be the most interesting guy to watch in camp.
Outside linebacker:
Dwight Freeney, Robert Mathis, Jerry Hughes, Justin Hickman, Mario Addison, Brandon Peguese, Tim Fugger, Kevin Eagan
Here again, the Colts have solid starters followed by questions. Freeney and Mathis are 4-3 ends who are trying to convert to having their hand off the ground, at least for a few snaps. Both are top-of-the-line pass rushers whose defense against the run may actually benefit from standing up and having some space between them and offensive tackles, but neither will be much help in coverage. Hughes, an epic first-round bust so far, will be given the first shot at No. 3/heir apparent. But I think that role and the one behind will actually go to draft pick Fugger and UDFA Eagan. The other guys are prospects who've been around a while and not done much. Of them, Addison is the one I've seen most. He hasn't been special at all, but he's been better than Hughes. Hickman was a big sack threat in the CFL, so he could be in the running too. Aside from Freeney and Mathis, anyone who wants to make the team at the position should probably also help out on specials.
Inside linebacker:
Pat Angerer, Kavell Conner, A.J. Edds, Scott Lutrus, Jarrell Freeman, Mario Harvey, Chris Galippo
Though undersized, Angerer is a tough linebacker and will have no problem retaining a starting role. The identity of his partner inside, however, is less certain. Conner has been starting on the outside off and on since he arrived in 2010 with mixed results. He's not bad against the run, but atrocious in coverage. In fact, he was outplayed by street free agent A.J. Edds, who played both inside and out last year. Don't be surprised if Edds edges Conner to the bench. Lots of fans like Galippo because he comes from a big-time program and looks the part, but I'm wary. He has chronic back problems and even his healthy production has not been great. He was benched in 2010, and there are questions about his athleticism. None of the others look to offer much but depth and perhaps special-teams play. Freeman was a big star in the CFL, but came out of college at 218 pounds. He's listed on Colts.com as 234 and has a linebacker's number, but I'd rather see him give safety a try.
Cornerback:
Jerraud Powers, Kevin Thomas, Chris Rucker, Terrence Johnson, Brandon King, Mike Holmes, Micah Pellerin, Antonio Fenelus, Cameron Chism, Buddy Jackson
In Powers the Colts have a pretty good cornerback who is the team's No. 1 by default. On the right side, though, the team is praying that one of three youngsters — Thomas, Rucker and Johnson — works out. All three saw significant playing time in 2011, and all were terrible. Thomas, a third-round pick in 2010, missed his first season with injury and played like an overmatched rookie last season. He has all the requisite tools, but really looked awful in all phases last season. His development will be something to watch this season. Rucker, a 2011 sixth-rounder, outplayed Thomas, but not by much. But unlike Thomas, he didn't have any truly brutal games, and he seemed to improve markedly as he went along. Johnson, an undrafted free agent cut by the Patriots, had a historically bad day against the Bucs in an early-season start, but improved as he went along. Short, I noticed that he work much better last season as a slot corner. Although the three are said to be even going in to training camp, I think Rucker will win the job (in part because Thomas is an injury risk), and Johnson will be a specialty slot guy. No matter who wins, right corner is likely to remain the weakest position on the team. The other one or two spots will be fought for by the others, with Chism or veteran slot cover man King probably the most likely to win.
Safety:
Antoine Bethea, Tom Zbikowski, David Caldwell, Joe Lefeged, Mike Newton, Jermale Hines, Matt Merletti
Bethea is an elite player at free safety. The strong safety will be Zbikowski, and that makes the fans happy, but there are questions about his coverage skills and tackling. He was benched by the Ravens last season. Still, at his worst, he's a huge improvement over the incumbent, the since departed Melvin Bullitt, or the guys who played when Bullitt was hurt. Both Caldwell and Lefeged saw extended playing time and both looked like what they were — young and undrafted. Both, particularly Caldwell, showed some strength against the run, but neither looked at all comfortable in coverage. I'm sure the Colts are expecting them to be better this year. Battling them will be Newton, who the Colts cut last year to keep Lefeged, late-season pickup Hines and rookie Merletti. None of them have much to recommend them over the others, so any of them could make it.